You're off on your summer holidays to get away from it all. In the 21st century, what cool little gadgets can you get to help you really relax when you are on holiday? You need your gadgets to be durable and light. Don't want to pay over the odds for going over your luggage allowance!
First off, for the plan you will need some noise cancelling headphones. Not the sort that audiophiles have in their homes, as these could be too bulky and too hot. You can actually get some really lightweight cans or even in ear headphones from Sennheiser which cancel out the sound of a screaming child on the flight. Can't do much about the one kicking the back of your chair though… Perhaps you should have gone first class on your flights to Ibiza.
Your bag itself is an important part of your gadget collection. Make sure your hand luggage is safe and protected with a hard cased yet lightweight bag. You can get a backpack from LAT56 which looks like it's made of body armour and that can hold 15 litres including space for your laptop protected by memory foam and comfortable straps.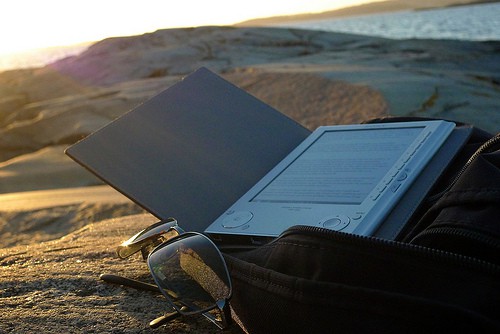 So you've managed to make it to Ibiza and you are sitting on the beach about to crack open your first bottle of beer. Bugger. You've forgotten the bottle opener. Thankfully, you've pack your Reef Men's Quencha TQT sandals and you just slip them off and take of the bottle top using the handy opener located on the bottom. Amazing.
You'll want to record your holiday for posterity, or even just so you remember what happened while you were drunk. It's best that you take a hardwearing and waterproof camera and leave the digital SLR at home. The Kodak Playsport is good as it can go up to 10ft underwater, so it'll work even after you've dropped it in the pool.
You'll also need some entertainment for when you are not out partying. Pick up some good quality travel speakers such as the Geneva Sound System Model XS which connects via Bluetooth to your smartphone and also comes with a built in alarm clock. Like you're going to get up early. It also comes with a DAB radio.
A Kindle is another great addition to your travel pack, as you can take your entire library on holiday with you. No more terrible airport novels.