Exam title:
Juniper Networks Certified Support Professional (JNCSP-SP)
Exam code:
Certification track:
Service provider routing and switching support track
Juniper's Service provider routing and switching support track: Description
The certification program launched by Juniper Networks offer candidates different certification tracks to follow according to their area of expertise. The certification exam JN0-692 falls under the track of service provider routing and switching support track. This track enables candidates to validate their knowledge and skills related to Juniper Networks technology. Candidates who take and clear this certification demonstrate their comprehension and capabilities to perform service provider switching troubleshooting and routing on Junos appliances.
JN0-692 Exam description:
The Juniper Networks certified support professional exam (JN0-692) is designed especially for professionals engaged in networking having thorough experience in the field and a vast knowledge about the Junos operating system. The exam validates a candidate's comprehension and abilities for troubleshooting complex supporting advanced service provider technology issues occurring in Junos appliances.
Certification validity:
Candidates who pass the exam JN0-692are entitled with the JNCSP-SP certification that is valid for 2 years. Recertification can be acquired by taking the exam JN0-692 again.
JN0-692 Exam objectives
JN0-692 exam is based on the following topics:
Troubleshooting of MPLS and MPLS VPNs
Multicast troubleshooting
CoS troubleshooting (Class of service)
Troubleshooting of BGP
IGP troubleshooting
Troubleshooting of routing policy
JN0-692 Exam information:
The exam JN0-692 is a written exam consisting of thirty six multiple choice questions based on the topics mentioned above. A total time of one hour is allotted to candidates for completing the exam. Candidates are informed about their result righter after finishing the exam.
Prerequisites
Candidates who wish to take the exam JN0-692 should have passed the exam JN0-690 (Junos troubleshooting).
JN0-692 Exam Questions and Practice Test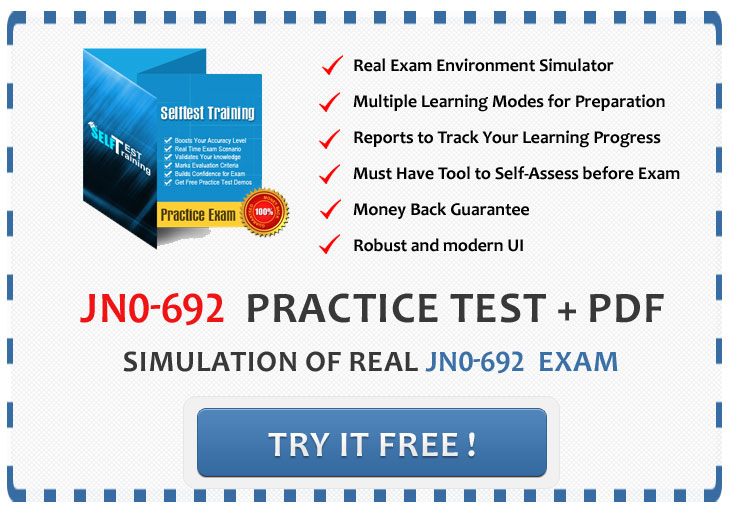 Candidates who wish to prepare for the exam are highly recommended to take the training course: Advanced Junos Service Provider Troubleshooting (AJSPT). It's a two day training course for which registrations can be made at Juniper networks' official website. Candidates who want to test their knowledge about the exam topics prior taking the exam can benefit from the practice test to evaluate their knowledge. Juniper Networks is offering free of cost practice test for exam JN0-692 which is also available at their official site and candidates can take this online test as many times as they like.
JN0-692 exam registration:
Registration for the exam JN0-692 can be made at Pearson VUE that will schedule the exam at its testing centers.