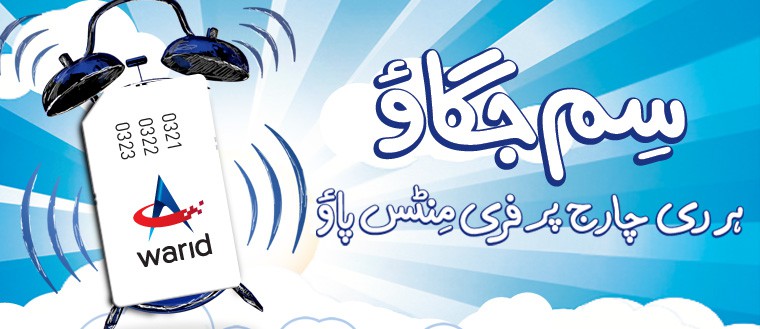 Waird one new offer for prepaid customers who have not used sim since 1st October 2009 SIM JAGAO warid offers for recharge  and get the on net free minutes for first three recharges
Few Questions answered by Warid Telecom
What is meant by free on-net minutes on first three recharges?It means that if you recharge any amount you will get free on-net minutes worth of 50% of recharged amount for each of the first three recharges.
How can I recharge to avail this promotion?This offer is valid only if you recharge your account through scratch card or ezeeLOAD. This offer is not available through balance share facility.
What is the validity of free minutes?Free minutes will be valid for a period of 10 days from the date of each recharge. If the next recharge is done before expiry of already gained free minutes they will be accumulated to the earlier minutes and will be valid for 10 days.
Where can I use these FREE minutes?Free minutes can only be used for on-net calls only.
In case of Lost SIM, how can I get a new SIM?You can get a free duplicate SIM from nearest Warid Business Center or Franchise. You will have to pay Rs. 50 at the time of replacement. After making first recharge, these charges will be reimbursed in your account balance.
What is the end date for the SIM Jagao offer?SIM Jagao offer is valid till 31st Jan 2010.
Terms & Conditions
All charges are exclusive of government taxes and levies including FED at 19.5%
10% withholding tax is deducted on each recharge amount by ezeeLOAD & scratch card
Using SIMs without proper Documentation is a Crime
This is a limited offer