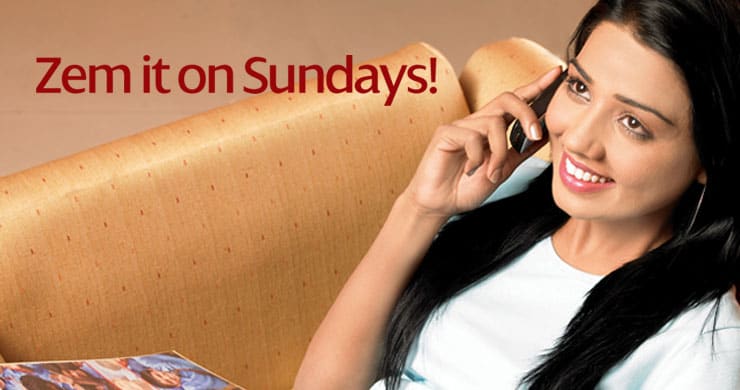 For the prepaid customers warid introduce  Zem Sunday Craze, The special thing in Sunday craze is that you can make calls free to your friends and family on sunday 8 am to 12pm
Review of  Sunday Craze Package
What are the benefits of Sunday Craze offer?
With Sunday craze offer, you can make as many calls as you wish on any Warid number on Sundays from 8 a.m to 12 p.m
How do I activate this offer?
You can activate this offer via IVR by dialing 321
Are there any activation charges for this offer?
Yes, there is one time activation charges of Rs.10. After that weekly subscription charges of Rs. 15 + tax apply.
Is this offer applicable on all packages?
Yes, this offer can be availed on all Pre-paid packages. However, once you subscribe to this offer your tariff will be automatically changed to the tariff applicable on ZEM Lowest call rate package (30 second billing) for the rest of the week.
Can I make free calls on any network?
No, this offer is only applicable on on-net (Warid-Warid) numbers.
Can I still make free calls if I have zero balance after subscribing to this package?

Yes you have the facility to make outgoing calls to on-net (Warid) numbers during the free calls time period.
Can I swap any other time slot on Sunday other that 8am-12pm?
No, this offer is only applicable from 8am-12 pm on Sundays.
Do I get to make free calls on my F&F numbers also?
Yes, you will be able to make free calls between 8am-12pm on all on-net numbers including on-net F&F numbers.
What if I have activated this package and after sometime my balance drops below Rs.15?

If your balance drops below Rs.15, on time of balance deduction your package will be changed to normal ZEM lowest call rate package.
How do I deactivate this offer?
You can deactivate this offer via IVR by dialing 100