Pakistan acquired only 2 spots to get to at 61 position in the global ranking which isn't remarkable in comparison to the some other countries, Pakistan Position was 63 in 2007 it get only 2 points in 2 years, Pakistan Rankings is not improvising as a result of inadequate functionality upon indications of total organization setting, legitimate atmosphere as well as govt assistance with regard to IT sector development, the Business Software Alliance (BSA) recently reported within the publication of 2011 release of the Economist Intelligence Unit's IT Industry Competitiveness Index.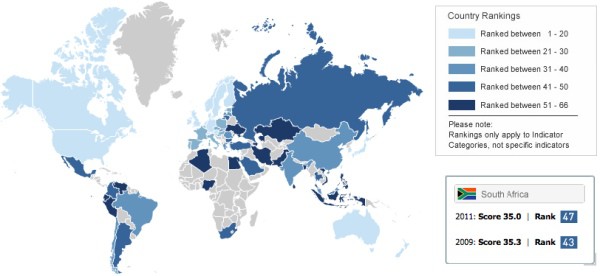 BSA President and CEO Robert Holleyman said
"Pakistan has gained only 2 spots in this year's rankings because of its poor performance in protecting intellectual property rights," "In the years ahead, policymakers in Pakistan have an opportunity to improve in that area. We know from global experience it will be worth the effort."
Pakistan is getting rid of surface in Information Technology (IT) in comparison to some other regional nations in today's scenerio. Up-to-date to the 4th period since 2007, the Index benchmarks 66 countries on the group of indicators within the essential basis areas for IT development: general enterprise atmosphere, IT facilities, human capital, research and development (R&D), legal environment and public support for industry development.
Kamal Ahmed, Country GM, Microsoft Pakistan said
"This isn't a good indication with regard to Pakistan's IT sector. The IT sector utilizes a lot more than 12,000 experts using the rate of growth of virtually 41% although creating more than $ 2 billion each year in taxes earnings. It might advantage almost all when we goal higher for an additional year's index".
Leading the general ratings for 2011 would be the Usa, Finland, Singapore, Sweden as well as the Uk.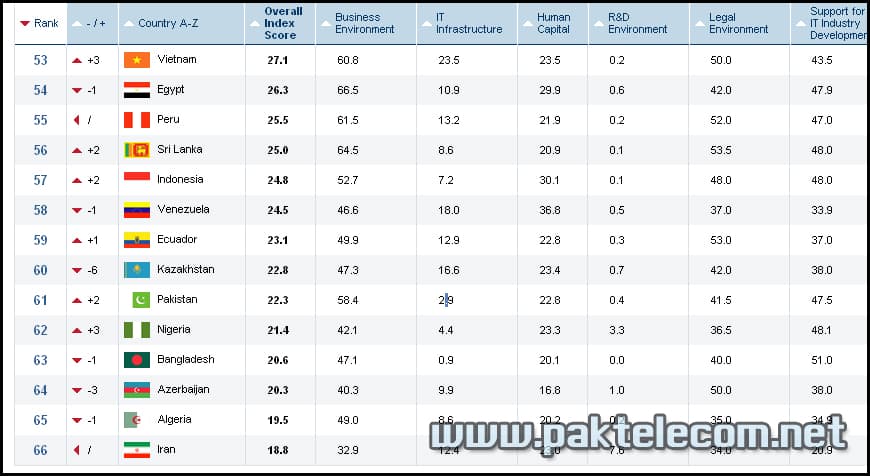 In the above picture its showing ranking of Pakistan which in 61, it should be taken serious why Pakistan is in very low rank in International Ranking, Even Pakistan has more opportunities compare to other Asian countries, Sri Lanka is on 56 , Ranking of India is 34.
This particular year's Index discovers in which countries typically powerful within it usually are keeping their placements of leadership in part because "advantage begets advantage" – they have got developed strong cosmetic foundations with regard to technologies development via many years of investment decision in addition to they may be ongoing towards enjoy the advantages. However the international area levels of competition are increasingly packed since brand new competitors, particularly in creating establishments, increase their own games to fulfill requirements of the leaders have set.
Holleyman Suggested
"It is abundantly clear from this year's IT Industry Competitiveness Index that investing in the fundamentals of technology innovation will pay huge dividends over the long term," "It is also clear that no country holds a monopoly in information technology. There is a proven formula for success, and everyone is free to take advantage of it. Because of that, we are moving to a world with many centers of IT power."
The biggest movers in this year's Index compared to the previous edition in 2009 include Malaysia, which vaulted 11 spots in the overall rankings because of a surge in research and development activity, and India, which leapt 10 spots on the strength of its robust research and development and dynamic human capital environment. A number of other countries – including Singapore, Mexico, Austria, Germany and Poland – posted strong overall gains this year by showing new levels of strength across the board in all IT foundation areas.
"As the global economy starts to recover, it is more important than ever for governments to take a long-term view of IT industry development," Holleyman said. "Policymakers cannot not just look at this issue on an annual basis, or they risk being left behind. They must assess the next seven to nine years, and invest accordingly, in order to make substantive gains in IT competitiveness."
The 2011 IT Industry Competitiveness Index is available for download on BSA's website at BSA Global Index, along with interactive ranking tables, detailed country summaries, industry case studies and video interviews with IT experts.