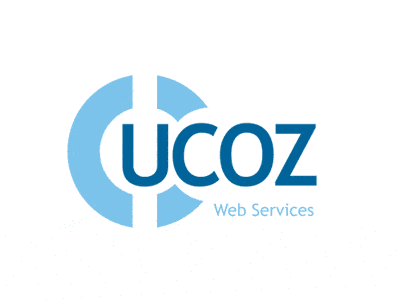 Creating a professional website can quite be a complex task. It will involve selecting the templates, creating content, choosing the right hosting service, customizing the templates, creating interactive pages with web programs and lots more. Not many business owners will be able to do all that on their own.
The good news is that there are many software applications being developed to make our lives easier. The same goes of site building as well. Now, we can use the web development tools to design attractive websites on our own. For example, you could use uCoz to design your website within minutes.

Some of the key features offered by uCoz
They provide you the facility to upload files by using different clients
Hosting services are free of cost
With this tool you can choose popular domain sites like GoDaddy to register for custom domain names.
The domain registration task is quite simplified
uCoz provides an efficient content management system
It is easier to import or export RSS feed from the blog
uCoz offer you the feature to block the IP of those visitors, who do suspicious activities
You will be given the control to modify or edit the HTML or CSS of any module you require.
Forums, site news, site catalog, tag board, file catalog, publisher, blogs, online games, photo albums, ad board, e- mail forums could be created within minutes. Besides this, you could design web polls, FAQ services, guestbook, and statistics with a few mouse clicks.
You could register for multiple domains with the help of this tool, and it is quite easy. Once registered, you will be directed towards their WebTop desktop. Their desktop will show icons namely My Websites and Secure Login. In order to access each of your sites, you will be asked to enter a login ID and password. This way, your site will remain secure.

Why people prefer uCoz over others?
400 MB disk space, 14 services to configure, 246 amazing web designs and much more make it better over others. Not only this, they also provides modules to create discussion forums, message board, personal guestbook, upload utility, hit counters, web polls and many other features to the users. If you wish to have more disk space to post multimedia content, you could pay them the expansion charge.
They will charge you $10 for every extra GB that you take. You could deactivate as well as reactivate the modules like forums and blogs as per your convenience. It is easier to create blog posts in uCoz. Not only this, it offers you an opportunity to edit them in HTML editor, visual editor, or BB codes editor according to your convenience.
It runs at a fast speed, and you will need only a few seconds to upload a website. Some of its interesting features include modules for creating photo albums and video streaming from YouTube and other similar sites.
How to design photo galleries?
You could easily create photo galleries with uCoz to make your site more attractive and interesting. Only one photograph will be uploaded at a time. Then, you could add suitable descriptions and captions to the images. Once the photo gallery is created, they will be presented in a very organized way over your web page.
You could have a look at uCoz reviews posted by the users online. After reading them you will get a fair idea about its features and advantages. Moreover, you could compare this software with others, to understand why it is considered better over others.
Alex is a technology fanatic, and he likes to write about various software applications and their features. His posts on online website builder software have been well appreciated by many of readers. My key idea is that it is not enough just to create a website but also make it user friendly.