Excellent News, PTCL once again comes up with one more impressive deal. Today PTCL launched this particular EVO Wingle, that is a WiFi USB Dongle running on 9.3 Mbps Rev B network to establish a WiFi hotspot throughout an area of 100 meters of Dongle.

As opposed to PTCL's Tenda Routers and Nitro WiFi Cloud, This device is USB WiFi which could get connected by way of any kind of base to establish a WiFi hotspot for internet sharing on all Wi-fi compatibility permitted gadgets nearby.
Such as, it is possible to connect Evo Wingle inside your vehicle to make a WiFi hot spot in the vehicle as well as around to allow access to the internet on your WiFi empowered mobile phones, or even notebooks .
So that all you'll need is a USB power source to receive links to the internet.
PTCL states that EVO Wingle is known as a hybrid device in addition to they said that it modifications between PTCL EVO and Nitro systems according to the provision. EVO Wingle can be for Nitro network initially to supply 9.3 Mbps speeds, then again, if Nitro isn't accessible after that Wingle will change to Evo to offer 3.1 Mbps speeds.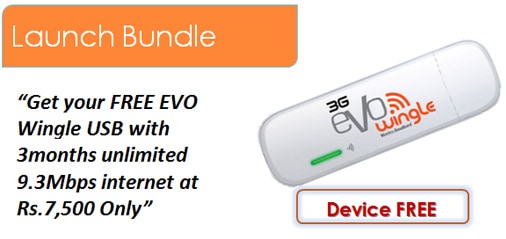 PTCL states have got Nitro coverage in 200 cities while EVO available in more than 250 cities across Pakistan.
PTCL claims that Evo Wingle includes built-in precautionary functions which guarantee the best possible to protect your gadget, so you've got maximum control.
To assure maximum protection of one's Wi-Fi connection, it is strongly suggested that you choose to change your security key (Wi-Fi Key) after very first log-in.
Advantages:
Compared with Nitro cloud and PTCLTenda Device, Wingle is USB sized gadget
You can run it anywhere you only need any power source
Disadvantages:
Unlimited package includes a 100 GB monthly limit
There is absolutely no actual unlimited package
Price for EVO Wingle:
3G Evo Wingle carries with it a package deal of Rs.7,500 included in the roll-out promo. Using this, you may enjoy Three months of unlimited access to the internet (100 GB limit as mentioned above) which includes a Totally free EVO Wingle.
For other prepaid packages, the product price for EVO Wingle will probably be Rs. 4,000.
Wingle Postpaid Packages:
WINGLE LIFE STYLE
Line Rent
Volume
Billing Option1
Billing Option 2
Rs. 2,500/-
Unlimited*
Landline billing
Advance line rent
Wingle Prepaid Packages:
WINGLE DAY
Line Rent
Volume
Validity
Rs.200/-
1GB*
1 Day
WINGLE WEEK
 Line Rent
Volume 
 Validity
Rs.700/-
10GBs*
7 Days
WINGLE BREEZE
 Line Rent
Volume 
Validity
Rs.1500/-
30GBs**
30 Days
WINGLE POWER
 Line Rent
Volume 
Validity
Rs.2000/-
50GBs**
30 Days
WINGLE UNLIMITED
 Line Rent
Volume 
Validity
Rs.2500/-
Unlimited**
30 Days