The long wait is over, as you finally get to see Research In Motion's (RIM) latest BlackBerry 10 mobile operating system. RIM's BlackBerry brand had been on the downward spiral for some time now, as the likes of Apple, Samsung and Nokia have been reigning over the mobile device space. With its BlackBerry 10 operating system and novel Z 10 and Q 10 Smartphones, it has to be said that BlackBerry is back and back with a bang. The new Smartphones look incredible, one a full-touch Smartphone (Z 10) and another with a physical keypad (Q 10).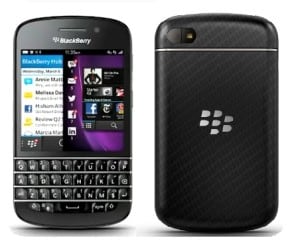 Launched in January 2013, the BlackBerry 10 mobile operating system succeeds BlackBerry OS version 7.1 released in late 2011. The new BlackBerry 10 mobile operating system comes with loads of innovative features, multi-tasking functionalities and touch-friendly applications that collectively. While the Z 10 is an out-and-out touch friendly device, the Q 10 comes as a mid-segment phone with a combination of touch and physical keyboard. The Q 10 Smartphone is set to go on sale sometime in February 2013, so until that time let's appraise the new Smartphone.
Design & Display 
Weighing in about 139 grams, the Q 10 Smartphone has a height of 4.71 inches, breadth of 2.63 inches and thickness of 0.41 inches. The Q 10 sports 3.1-inch Super AMOLED, multi-touch display that packs resolutions of 720 x 720 pixels with a pixel density of 328 ppi. The Smartphone retains RIM's far-famed physical keyboard, which is integrated well with the new BB 10 operating system. The phone design in a way closely resembles the popular BlackBerry Bold lineup of handsets. With curved edges, the exteriors of the phone feature a fanciful all-glass plate at the back that is made stronger by a resin weave.
Hardware
The Q 10 is powered by a 1.5 gigahertz Cortex A9 dual-core processor and a PowerVR SGX544 graphic processing unit. With 2 gigabytes of RAM capacity, the phone supports all the key features of BB 10 like BlackBerry Hub, BlackBerry Balance, BlackBerry Remember, Voice Control, and more. The processor is aptly equipped to run the thousands of BB 10 compatible apps available in the BlackBerry World. For extended battery backup, the Q 10 is powered by an 1800 mAh Li-Ion battery that offers talk times of up to 10 hours.
Multimedia
The Q 10 has an eight megapixel primary camera that offers auto-focus, continuous shooting, image stabilization and face detection options. There is also a 2 megapixel secondary camera in the front, which facilitates video calling. The phone's internal storage capacity is 16 gigabytes and it can be further extended to 64 gigabytes with the help of micro SD card. For an enhanced gaming experience, the Q 10 incorporates gyrometer, proximity, accelerometer and compass sensors. The browser comes with HTML 5 and JAVA MIDP 2.1 support.
Networking & Connectivity
The Smartphone operates in 2G GSM and 3G networks with support to HSPDA, HSUPA, GPRS and EDGE. For connectivity purposes, the phone supports WI-Fi, Bluetooth 4.0 and micro USB 2.0, along with NFC capabilities.
Verdict
The Q 10 powered by the BlackBerry's latest operating system is an incredible phone packed with amazing functionalities from top to bottom. Both the Q 10 and Z 10 Smartphones along with the BB 10 operating system open up the road to glory for the BlackBerry brand.